---
Hearing Aids in Omaha and Lincoln
TAILORED TO YOUR INDIVIDUAL NEEDS
---
Schedule an Appointment
---
There Are
Million Americans
With Hearing Loss
Providers of Modern Hearing Aids
(402) 515-9028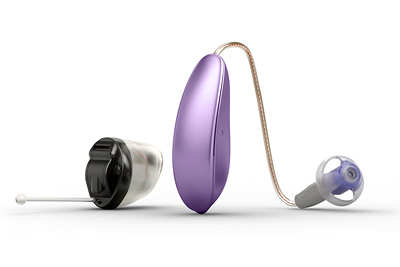 Hearing aids are available in many different sizes and styles, thanks to advancements in digital technology and miniaturization of the internal components. Many of today's hearing aids are considered sleek, compact, and innovative – offering solutions to a wide range of hearing aid users.
Some of the exciting new features available include hearing aids that connect through Bluetooth to your personal electronic devices, allowing you to stream phone calls, music, and other media directly to your ears; hearing aids that connect to the internet, giving you access to a database of sound; and nanocoating technology that protects hearing aids from moisture and the elements.
With over 35 years of combined experience, we can confidently fit you with the most ground-breaking digital hearing aid technology available, or provide hassle free repairs on your current hearing aids. We offer hearing aids from the leading manufacturers like Signia, Unitron, Starkey, Oticon, Resound and more.
---
We offer FREE hearing tests in our Lincoln and Omaha offices. These comprehensive hearing evaluations include otoscopic examination to look for the presence of excessive cerumen (earwax).
Hearing tests are an important part of health care. For people over the age of 50, annual hearing tests are highly recommended. Because hearing loss occurs gradually, many people may begin to experience changes to their hearing but wait an average of seven years before seeking treatment. Hearing loss affects many different areas of our lives, so it is important to identify and treat the condition as soon as it occurs.
Take our Online Hearing Survey
Hearing Loss Causes and Effects
Hearing loss is the third most common medical condition in the US, affecting nearly 50 million Americans. If left untreated, hearing loss has the potential to affect our cognitive abilities, raise the risk for dementia, interfere with our ability to communicate, and cause depression. Over the long term, this could cause rifts in our most important interpersonal relationships. For this reason, people with untreated hearing loss often experience social withdrawal and isolation. For older people, social isolation is one of the leading risk for developing dementia.
We are here to help people with hearing deficiencies live the life they want with the hearing they have. Our staff ensure that the patient's needs are always met in a friendly, courteous, and efficient manner. Our outstanding patient care is what sets us apart in the eyes of our clients.
Learn more about Hearing Loss
Offices in Lincoln and Omaha
Omaha (402) 515-9028

Lincoln (402) 975-8976
---
Custom Hearing Solutions offers high-quality hearing health service for people of all ages in Nebraska and Iowa. Our experienced and licensed professional hearing specialists provide a full range of diagnostic care, including comprehensive hearing evaluations, hearing aid fittings, and hearing aid maintenance and repair. With a friendly staff and a warm comfortable atmosphere, our hearing center provides you with complete and thorough service that brings significant benefits to your health and well-being. In assessing your hearing abilities, identifying a hearing loss, and providing customized hearing aid fittings, Custom Hearing Solutions supports you on your journey to better hearing heath. Whether you need a hearing evaluation, swim plugs, custom ear protection, or hearing aids, you can count on us to help you with all of your hearing needs.
Reviews for our Omaha Hearing Aid Center
Overall Rating /
29

Total 1st-Party Reviews
Custom Hearing Solutions Omaha
Karissa J

- May 29, 2018
I am a private practice Audiologist/Owner in Michigan and one of patients was in Omaha on business. He was having trouble with his Phonak hearing aid and needed service ASAP. He found Custom Hearing Solutions and told me how impressed he was with their kindness and service. They were able to quickly fix his hearing aid and did not charge him because his hearing aid was still under warranty. What excellent customer service!! Thank you all so much for taking such great care of my patient. I will remember you in the future. Most Sincerely, Dr. Karissa Jagacki, Personalized Hearing Care, Inc.
Craig R

- October 17, 2017
I am not much for leaving feedback good or bad but when I called and went into Custom Hearing Solutions today, I was so impressed with the friendly service I received that I had to write about it. Sonja at the front desk is the best!!!.She listened to me explain my problem and knew exactly what I was talking about. Sonja told me she had the parts and could repair my hearing aids first thing in the morning. I walked into the office at 8:00 AM and I walked out at 8:13 with my hearing aids repaired at a very fair price.Thank You Sonja you made my day. CraigR
Lee O. (Office Manager) responded - October 17, 2017

Craig,

I was so glad I could assist in fixing your hearing aid. I truly do my best to help all customers with their needs. Thank you for taking the time to give your feedback! We really want to make sure we are doing our best. It was so nice meeting you today!

Thanks
Sonja
Josephine P

- June 5, 2017
Lee O. responded - April 11, 2017

Thank you for taking the time to rate our services. I am glad you were completely satisfied with our services.
Leave Us a Review
We've found that customer reviews are very helpful in keeping our business thriving. We would truly appreciate a review from you!
Visit your preferred site to leave a review or comment:
Reviews for our Lincoln Hearing Aid Center
Overall Rating /
10

Total 1st-Party Reviews
Custom Hearing Solutions Lincoln
Tom B

- June 20, 2018
I scheduled an appointment for what I thought was a major problem with my hearing aids. Within minutes Bryson made an adjustment and the problem was solved . I had a very satisfying experience with the staff. I recommend you give Custom Hearing Solutions the opportunity to assess then solve your hearing loss needs.
Lee O. responded - June 9, 2017

Dan we are so glad you are happy with our services.
Josephine P

- April 15, 2017
I am very satisfied with my treatment; it makes me feel as if you are very concerned that ALL areas are important and that everything is not covered in one 30 minute appointment. I must confess: I do not wear the hearing aids most of the time at home. That's because I live alone--no talking and listening. Radio is on or TV and those can be turned up to hear better. But when I go out in public, hearing aids go, too, in my ears where they belong.
Lee O. responded - April 17, 2017

Thank you for your feedback. We appreciate you taking the time to let us know how we are doing.
Lee O. responded - April 3, 2017

Thanks for taking the time to let us know how we are doing. If you need anything else please let us know.
Leave Us a Review
We've found that customer reviews are very helpful in keeping our business thriving. We would truly appreciate a review from you!
Visit your preferred site to leave a review or comment: