---
Hearing Aids in Omaha and Lincoln
TAILORED TO YOUR INDIVIDUAL NEEDS
---
Schedule an Appointment
---
There Are
Million Americans
With Hearing Loss
Helping Our Patients Hear with Advanced Hearing Technology
Omaha (402) 515-9028 / Lincoln (402) 975-8976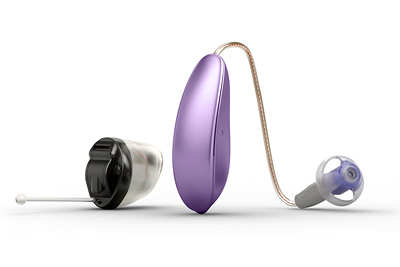 Hearing aids are available in many different sizes and styles, thanks to advancements in digital technology and miniaturization of the internal components. Many of today's hearing aids are considered sleek, compact, and innovative – offering solutions to a wide range of hearing aid users.
Some of the exciting new features available include hearing aids that connect through Bluetooth to your personal electronic devices, allowing you to stream phone calls, music, and other media directly to your ears; hearing aids that connect to the internet, giving you access to a database of sound; and nanocoating technology that protects hearing aids from moisture and the elements.
With over 35 years of combined experience, we can confidently fit you with the most ground-breaking digital hearing aid technology available, or provide hassle free repairs on your current hearing aids. We offer hearing aids from the leading manufacturers like Signia, Unitron, Starkey, Oticon, Resound and more.
---
We offer FREE hearing tests in our Lincoln and Omaha offices. These comprehensive hearing evaluations include otoscopic examination to look for the presence of excessive cerumen (earwax).
Hearing tests are an important part of health care. For people over the age of 50, annual hearing tests are highly recommended. Because hearing loss occurs gradually, many people may begin to experience changes to their hearing but wait an average of seven years before seeking treatment. Hearing loss affects many different areas of our lives, so it is important to identify and treat the condition as soon as it occurs.
Take our Online Hearing Survey
Hearing Loss Causes and Effects
Hearing loss is the third most common medical condition in the US, affecting nearly 50 million Americans. If left untreated, hearing loss has the potential to affect our cognitive abilities, raise the risk for dementia, interfere with our ability to communicate, and cause depression. Over the long term, this could cause rifts in our most important interpersonal relationships. For this reason, people with untreated hearing loss often experience social withdrawal and isolation. For older people, social isolation is one of the leading risk for developing dementia.
We are here to help people with hearing deficiencies live the life they want with the hearing they have. Our staff ensure that the patient's needs are always met in a friendly, courteous, and efficient manner. Our outstanding patient care is what sets us apart in the eyes of our clients.
Learn more about Hearing Loss
Offices in Lincoln and Omaha
---
Custom Hearing Solutions offers high-quality hearing health service for people of all ages in Nebraska and Iowa. Our experienced and licensed professional hearing specialists provide a full range of diagnostic care, including comprehensive hearing evaluations, hearing aid fittings, and hearing aid maintenance and repair. With a friendly staff and a warm comfortable atmosphere, our hearing center provides you with complete and thorough service that brings significant benefits to your health and well-being. In assessing your hearing abilities, identifying a hearing loss, and providing customized hearing aid fittings, Custom Hearing Solutions supports you on your journey to better hearing heath. Whether you need a hearing evaluation, swim plugs, custom ear protection, or hearing aids, you can count on us to help you with all of your hearing needs.
---