Make Your Move....CEO Lee Oreskovich
Hi, my name is Lee Oreskovich with custom hearing solutions. I am the CEO and founder and I am glad you are visiting this page! I want to take a minute to introduce you to who we are and what we do and where we are going!
We have big goals and our people are the only way we can make them come to life. We are opening 72 full-time clinic locations over the next 10 years to become one of the largest privately owned practices in the nation. We are looking for great people that want to learn, grow and lead us to be the best hearing health company in the country!
First of all, we know we cannot be everything to everybody so we are a company dedicated to serving specific groups of people called our Core Customers and we strive to serve them better than anyone. Secondly, we know hearing health is serious but we don't have to be serious all of the time to get that message across. We strive to be ordinary and extraordinary at the same time. Most of our leaders weren't the best technicians when they started but they demonstrated the qualities that are necessary to excel here! Those qualities are our core values. These Core Values lead the way with all of our decisions. We believe in these core values and reward them when they are lived out in our work lives while also holding each other accountable to those standards when they are not.
We don't offer advancement or special treatment based on how long you've been here. That is for the people who say they want it and are willing to get it.
Brand Promise
The Brand Promise is our commitment that we will Educate, provide Value and earn Trust of our customers. Our goal is to make the communities and patients we work with question how they lived without us!
We are passionate about hearing and are in a continuous pursuit to add value to the lives of everyone we meet, whether that is through performing hearing exams, educating on hearing loss or simply answering your questions.
Core Values
Our Core Values are three behavioral characteristics that we expect from each of our employees. These Values guide our hiring decisions, provide direction on writing performance reviews, and sets expectations on how we behave.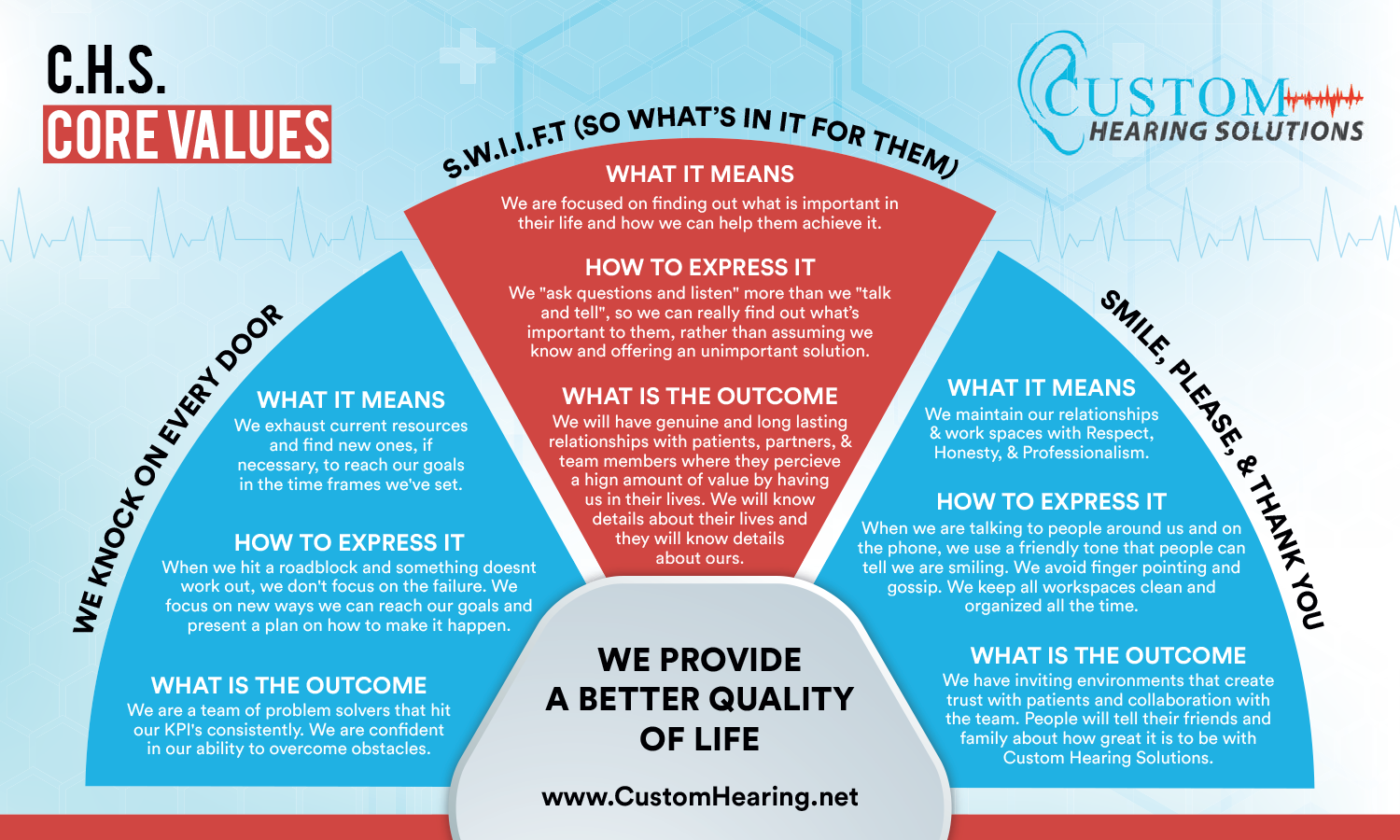 Caught You Cards
This Program is designed for when Leadership or Employees observe a team member living out one of our Core Values to use one of these cards to mail to them or leave in their work area letting them know you noticed and which Core Value it represented.
Education and Development
1. Innovation Award
"Creativity is thinking up new things, innovation is doing new things"
~ Theodore Levitt
Innovation needs to be a team effort that everyone is part of, it is a necessary part of any business that achieves long term success. If you are on this team we believe that you are the future of this company and want you to be part of our growth!
We want to encourage and reward you for being vulnerable and putting your thoughts and ideas out there so we can all be better for our patients and ourselves.
2. CEU's, Licensing
We believe that supporting our employees to help obtain pertinent job-related training and licensing are a well-deserved investment. The burden of having to provide this cost rests with CHS.
3. Career Development
Attracting talent is just the start. At CHS, we believe our employees are core to our success and, as such, it is our responsibility to train and mentor them. Our leaders consider teaching and mentoring an absolute priority to support the career development of our employees.
4. Better Book Club
"Not all readers are leaders, but all leaders are readers." – Harry Truman
To be great we have to be improving all of the time at a faster pace than our competition. The best way to do this is by reading consistently in areas that we can improve for our team, our patients, and ourselves.
To make this fun & rewarding we have put an incentive program together for anyone who wants to take their self-improvement to the next level!
President's Club
The President's Club Program was created to recognize the achievements of Top Performers, based on our Core Values and Key Performance Indicators.
This prestigious group of winners is relentless when it comes to achieving results while maintaining the right "Cultural Behaviors".
Each year recipients are awarded a trip to a designated Exotic Island or Financial Gift, President's Club Trophy, and Merchandise.