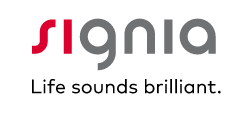 Signia Cellion – Advanced Rechargeable Hearing Technology

Signia Cellion is one of the world's first inductive, wireless, contact-free rechargeable hearing aids on the market. Rechargeable hearing solutions have been available for decades, but none of them have been quite as convenient, smart, and simple to use as the Signia Cellion.
Built with a OneShell design, Cellion does not require any battery removal by the user. Powered by a lithium-ion battery (like those found in our smartphones, tablets, and laptops), Cellion primax hearing aids do not require battery replacement for at least five years – which is the average life of a hearing aid. If a battery replacement is necessary, your hearing specialist at Custom Hearing will make the replacement. Signia Cellion eliminates the regular need to change out batteries.
This comes at a benefit for hearing aid wearers and the environment alike. For hearing aid wearers with advanced aids, fast processing platforms and sophisticated features tend to drain batteries. With most contemporary aids, wearers tend to replace batteries regularly. Over the course of a year, wearers end up spending quite a bit of money on hearing aid batteries.
At the same time, the disposal of hearing aid batteries climbs to several hundreds of billions a year in landfills. Improper disposal of hearing aid batteries could lead to seepage into earth and water supply.
Signia Cellion primax's lithium-ion battery is convenient, easy to use, and instills confidence in its wearers for its long energy-life. With primax's sophisticated features, Cellion provides wearers with an unrivaled listening experience.
If you've just been diagnosed with a hearing loss, your hearing specialist at Custom Hearing Solutions can fit you with Signia Silk aids and you'll walk out the same day with access to better hearing.
Signia Cellion is a receiver-in-canal hearing aid, rated at IP68 for protection from elements, and is fully customizable to fit comfortably in your ears. Cellion's lithium-ion battery runs on 24 hours on a full charge (4 hours), or 6 hours on a quick charge (30 minutes).
Charging Signia Cellion is simple, using a standard micro-USB interface. Cellion wearers may charge their aids with any USB-compatible power source (laptop, car adaptors, and power packs). Cellion's charging system provides 60% more energy than competing rechargeable hearing options.
Signia primax Platform Features

Signia primax is the flagship portfolio, boasting some of the most advanced listening features available on the market. As the debut hearing device from Signia, primax builds upon the successes of its predecessors, the Siemens binax and micon, both of which utilize binaural hearing features to provide wearers with better than normal hearing in the most challenging listening environments.
In an independent study, Signia primax aids have been found to clinically reduce listening effort, thanks to several excellent features: SpeechMaster, EchoShield, and HD Music.
SpeechMaster – Improved Speech Recognition

With hearing loss, difficulties of speech recognition interfere with our abilities to communicate with our friends and loved ones. Many people complain that while they can hear, they find it difficult to understand. Background noise contributes to difficulty in communication. SpeechMaster addresses these challenges with noise reduction, directionality, and steering amplification.
EchoShield – Preserving Sounds

Signia's EchoShield feature preserves sounds in difficult acoustic spaces. If you've tried to have a phone call or conversation in a space like a lecture hall or an auditorium or the lobby of a building, you may have experienced difficulty. EchoShield preserves sounds by eliminating reverberations while softening and balancing the sharp sounds in these spaces. EchoShield also prevents over-amplification for a more comfortable listening experience.
Other Advanced Signia primax Features

Most traditional hearing aids focus on speech recognition features, but do not provide much in terms of music listening, which requires different emphasis on frequencies. Signia primax hearing aids address this problem for music lovers, with the HD Music feature. HD Music provides three settings (recorded, live, and musician) for high-fidelity music listening, whether you're listening in the car or performing.
Signia primax hearing aids are wireless hearing aids, which means they are able to connect to a number of personal electronic devices and remote controls. The TwinPhone feature allows you to have hands-free conversations through streaming on your phone. Downloadable apps such as easyTek and touchControl allow you control your listening experience with a simple touch.
Signia: Company Overview

Signia is the newest brand from Sivantos Group, parent company to Siemens. Signia builds upon the innovations of Siemens, specially the binax platform, which has been proven to outperform normal hearing in challenging noise situations. In addition to Signia Cellion, other hearing aid families from Signia include primax Ace, Pure, Insio, and Silk (ready-to-wear with Click Sleeves).