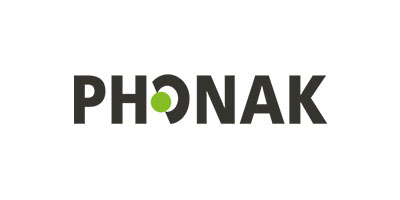 Phonak is a Swiss manufacturer of hearing aids, founded in 1947. With the mission to reconnect people to their lives and loved ones, Phonak has dedicated their work to creating innovative hearing technology. At the same time, Phonak works to remove stigmas around hearing loss.
Phonak is responsible for a few industry firsts: AudioZoom multi-microphone technology (1995), MicroLink FM receiver (1996), fully digital Claro hearing aid (1999), and SmartLink, the first hearing aid to use Bluetooth technology (2003). Phonak has vowed to continue to produce hearing technology and break down the taboos on hearing loss, vowing not to rest until "wearing a hearing aid is as simple and routine as eyeglasses or contact lenses."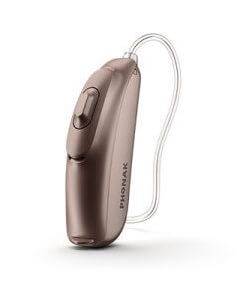 The Lyric Hearing Aid: 24/7 hearing
Lyric is Phonak's most innovative hearing solution to date: a fully invisible hearing aid that is worn up to four months at a time without removal or recharge. This "contact lens for the ear" is inserted into your ear canal by your hearing specialist, where it rests near the ear drum. Lyric may be worn during daily activities where traditional hearing aids cannot, such as showering, exercising, and sleeping. It is designed for people with mild to severe degrees of hearing loss, delivering sound quality that utilizes the natural anatomy of the ear and the audiological process.
Lyric reduces background noise and improves the ability to hear high-frequency sound. As the battery reaches the end of its life, your hearing specialist will remove your Lyric hearing aids and replace them with new ones. Depending on your lifestyle and environment, Lyric may need to be replaced sooner than four months. Communication with your hearing specialist will determine the frequency at which you will need to replace your Lyric hearing aids.
Phonak Features and Technology
---
Phonak hearing aids are powered by the Venture Processing Platform, introduced in 2014. This new chip technology offers twice the processing power of its predecessors and reduces battery consumption up to 30%. Venture has 200 channels that automatically adjust in different environments, giving wearers a seamless listening experience. With a focus on exceptional speech recognition, Venture gives wearers comfort and clarity in a variety of different environments, from cars to loud noise.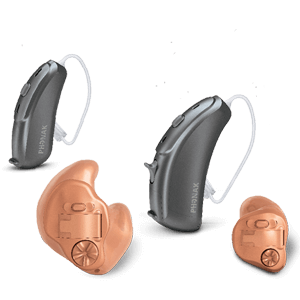 Other Phonak features include Ultra Zoom, which gives wearers the ability to focus on the sounds they prefer to hear. Speech in 360-Degrees improves both speech recognition and spatial awareness, empowering wearers to identify sounds coming from behind them. Additionally, Phonak hearing aids are equipped with tinnitus therapy, Comfort in Echo (reduces the loudness of noises in challenging acoustic situations), and a music feature that adapts to recorded music at home or at a live venue. Phonak's AutoSense OS feature analyzes sounds from the wearer's environment and provides wearers with a well-balanced listening experience.
---
Hearing Aid Styles and Models
Phonak hearing aids come in three main families: Audeo V, Bolero V, and Virto V. Audeo V is a receiver-in-canal hearing aid, Bolero is a behind-the-ear hearing aid, and Virto V is a customizable in-the-ear/in-the-canal/completely-in-canal/invisible-in-canal hearing aid. All three hearing aids are equipped with above listed features from Phonak, and are powered by the Venture platform.
Audeo, Bolero, and Virto come in a few technology levels, customizable to meet specific hearing needs. They are categorized by their level of technology: Essential (V30), Standard (V50), Advanced (V70), and Premium (V90).
For those who experience single-sided deafness, Phonak offers the CROSII, which captures sound from the non-hearing ear and mixes it with sound data from the hearing side. For those with higher degrees of hearing loss, Phonak offers the NaidaQ, designed to treat severe to profound hearing loss. SkyQ is Phonak's line of pediatric hearing aids, durable and sturdy to meet the needs of growing kids.