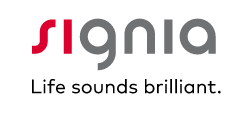 Signia Silk – First Ready-to-Wear Hearing Aid

Signia Silk has revolutionized not just completely-in-canal (CIC) hearing aids, but also the experience of being fitted for hearing aids.
Silk's innovation lies in the brand new Click Sleeves, a silicone sleeve that comes in six varieties to fit almost any ear canal. Signia designed Silk to make the process of being fitted for hearing aids as simple as possible. In a day and age when efficiency matters, Signia Silk hearing aids give first-time hearing aid wearers access to the immediate benefits of wearing hearing aids.
If you've just been diagnosed with a hearing loss, your hearing specialist at Custom Hearing Solutions can fit you with Signia Silk aids and you'll walk out the same day with access to better hearing.
The super-soft, flexible Click Sleeves click into the CIC Signia primax hearing aid, making them easy to insert deep into the ear. The malleability of the Click Sleeves means that Silk will fit into most ear canals.
Additionally, for further convenience to first-time aid wearers, Silk comes in two colors: blue for the left ear and red for the right – so it'll be clear which aid goes in which ear. Signia Silk sits invisibly in the ear canal for complete discretion, and with primax's platform, it has been proven to reduce listening effort throughout the day.
Signia Silk is available in three performance levels to address different degrees of hearing loss (moderate to severe): 3px, 5px, and 7px.

Signia primax Platform Features

Signia Silk Click Sleeves click into CIC primax hearing aids. As the first hearing aid from Signia, primax is already the most advanced hearing aid from Sivantos Group. In an independent study, primax hearing aids have been clinically proven to reduce listening effort for the wearer. They also provide the same innovations forwarded by Siemens binax: the ability to outperform normal hearing in challenging noise situations.
The two main primax features that provide wearers with listening ease are SpeechMaster and EchoShield.

SpeechMaster – Improved Speech Recognition

With hearing loss, difficulties of speech recognition interfere with our abilities to communicate with our friends and loved ones. Many people complain that while they can hear, they find it difficult to understand. Background noise contributes to difficulty in communication. SpeechMaster addresses these challenges with noise reduction, directionality, and steering amplification.
As a CIC hearing aid, Silk primax uses binaural OneMic directionality, which helps you focus on specific sounds and filters out sounds you do not want to hear.
EchoShield – Preserving Sounds

Signia's EchoShield feature preserves sounds in difficult acoustic spaces. If you've tried to have a phone call or conversation in a space like a lecture hall or an auditorium or the lobby of a building, you may have experienced difficulty. EchoShield preserves sounds by eliminating reverberations while softening and balancing the sharp sounds in these spaces. EchoShield also prevents over-amplification for a more comfortable listening experience.
Other Advanced Signia primax Features

Most traditional hearing aids focus on speech recognition features, but do not provide much in terms of music listening, which requires different emphasis on frequencies. Signia primax hearing aids address this problem for music lovers, with the HD Music feature. HD Music provides three settings (recorded, live, and musician) for high-fidelity music listening, whether you're listening in the car or performing.
Signia primax hearing aids are wireless hearing aids, which means they are able to connect to a number of personal electronic devices and remote controls. The TwinPhone feature allows you to have hands-free conversations through streaming on your phone. Downloadable apps such as easyTek and touchControl allow you control your listening experience with a simple touch.
Wireless Streaming & Control

Silk hearing aids, as CIC devices, are designed to be controlled through wireless connection. With Bluetooth capabilities, Silk hearing aids may connect to devices such as smartphones, laptops, tablets, and speakers with the aforementioned apps, easyTek and touchControl.
For those who do not use smartphones, Signia also offers a line of accessories that are compatible with easyTek and enhance the listening experience: TV Transmitter, VoiceLink, and easyPocket and miniPocket remote controls.
Signia: Company Overview

Signia is the newest brand from Sivantos Group, parent company to Siemens. Signia builds upon the innovations of Siemens, specially the binax platform, which has been proven to outperform normal hearing in challenging noise situations. In addition to Signia Silk, other hearing aid families from Signia include primax and Cellion.